Pierce Brosnan
I collected Pierce Brosnan and his mother from Ellenborough Park 5-Star Hotel, Cheltenham and drove them around the Cotswolds. During the two days we visited the following places: Stow-on-the-Wold, Sudeley Castle, Ian Coley Shooting School, The Wesley House in Winchcombe and The Old Butchers in Stow. At the end of my thoroughly enjoyable time with them, Pierce wrote me the following note...
"Dear David.
Thank you for all the great care you have taken of my mother May.
Be great. Yours sincerely" Pierce Brosnan
John & Ping
"Hi David
We would like to take this opportunity to express our sincere appreciation for the service provided by you over a five day period. We enjoyed many beautiful and historic places in the English countryside, which was way beyond our expectations and extremely attractive and appealing to walk around.
From Highclere Castle to Stonehenge, from Royal Crescent in Bath to Lacock Abbey, from charming Cotswolds villages (Broadway among others) to Hidcote Manor Gardens and Kiftsgate Court Gardens, from Blenheim Palace to Oxford, from Stanway House to Sudeley Castle, each day of these five days were fun, interesting and adventure as well. Your enthusiasm and knowledge made our trip in the Cotswolds a most memorable one.
In addition, we stopped at the best places for lunch as you had carefully planned each day. Not only was the food great, the view around the restaurants were absolutely stunning.
We indeed wished we had more time with you. We definitely recommend you as a driver/guide with the most comfortable car and hope your other visitors will enjoy the Cotswolds as much as we did." John & Ping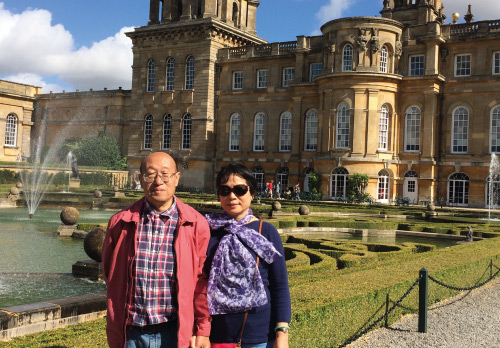 Ron & Rebecca Stephonic
"Dear Ms. Etter and Jordan
I want to thank you for the wonderful experience my wife, Rebecca and I had staying at the Dormy House in September. This was our second visit as we were there two years ago, and we again were not disappointed. The accommodations were quite charming and the service superb. Every special request that we had was seen to perfectly, champagne, room flowers, truffles, and "specific" room. Thank you so much.
Since we had wanted to see more of the area, we again used the services of David, The Cotswold Tour Guide. He was recommended to our travel agent, Christine Lambert, of Travizon Travel, by a member of your staff on our previous visit. We totally enjoyed his service at that time; we were not disappointed this visit either. David met us at Heathrow airport and chauffeured us to Dormy House and back.
Rebecca had several discussions with David, prior to our visit, on sites we were interested in seeing and he mapped out several days of touring, including some of his own recommendations. His knowledge of the history of the area was quite complete and his attention to details was obvious. We saw all the sites we wanted to see and David arranged a delightful private lunch and an afternoon tea for us.
In addition, he was able to purchase for us several pieces of English bone china that wasn't available for purchase or shipping in the U.S. Not only was he able to procure this china, he had it boxed and shipped to our home so that we did not have to pack it in our bags for the remainder of our trip. That was exemplary service. All in all it was three terrific days.
Thank you again for your contribution to the experience." Ron & Rebecca Stephonic
Ron & Rebecca Stephonic enjoying a fine property built in Cotswold stone...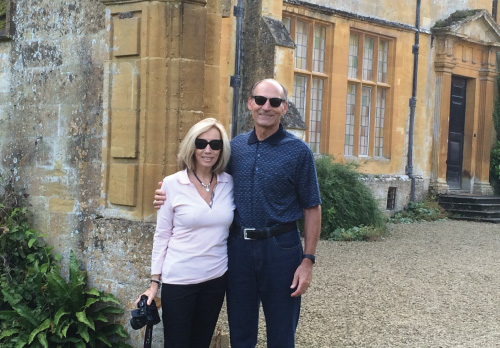 Kent & Kathy Scott
"If we had to choose a word to describe our experience with The Cotswold Tour Guide it would be PERFECTION! From the first inquiry to our tour ending good-byes in London, David was prompt, intuitive, and professional. He truly listened to our desires, and customized a tour through the Cotswolds that went beyond our expectations. Our only regret is that we didn't schedule a longer trip. Oh well, there's always next year! David, thanks for a brilliant time! We simply cannot thank you enough!" Kent & Kathy Scott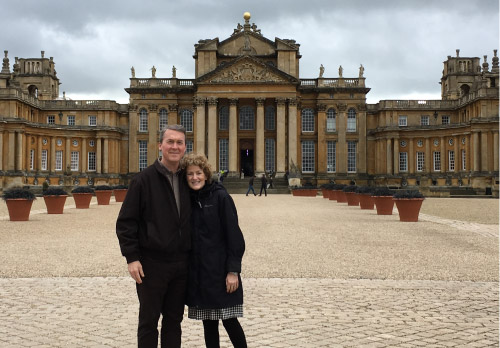 Mark & Patty Seeberg
"Just a quick note to tell you how much my wife, friends, and I enjoyed our stay at Foxhill Manor. A truly wonderful experience in every way!
I also want to sing the praises of David Keffler and his chauffeuring services. You were kind to put us in contact with David and we could not have been more pleased with the terrific personal attention he gave us. David was professional, personable, witty, and most importantly listened to the experience we desired and delivered in every way possible. He is incredibly knowledgeable about the Cotswolds and all things English, and truly worked over-time to make our four days with him a real joy. He took us to several places off the beaten path where we experienced things the regular tourist would never get a chance to see. I would highly recommend him to future travellers to England. Since returning to the States we're still talking about our drive through the English countryside with David. As we Americans might say, "he's the real deal."
Thanks again for helping arrange such a delightful experience" Sincerely, Mark Seeberg
Mark & Patty Seeberg with Jim & Anne Morrisey at Highclere Castle...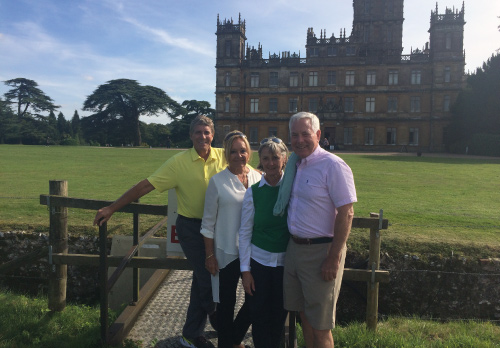 Jim & Anne Morissey
"In early September, my wife and I stayed at Foxhill Manor. What a lovely time we had. Perfect, actually. We loved our room, the furnishings, the personalized dining, the staff, the quiet, the style. Everything. And when I say "everything" I include in that David, The Cotswold Tour Guide. There is no doubt about it, David helped make our time in The Cotswolds even more idyllic than, yes, The Cotswolds. And that is saying a lot.
With David Keffler, we were exposed to all of The Cotwolds' charms in superb luxury, with insight, humor, punctuality, and professionalism beyond compare. He gets it! I assure you that you can count on David, The Cotswold Tour Guide for all of your clients and guests. When you do, you will know they be taken care of in splendid style.
David's fleet is outstanding; it's in excellent condition, with WiFi, an iPad, and more. Probably most important, David drives with the comfort of his passengers fully in mind. If you've ever travelled internationally and had a sub-par experience with a vehicle or a driver's style (as we have), you know what I mean. In a nutshell, David is The Professional Chauffeur Service. Of course, when one stays at FoxHill Manor, would you expect anything less? Excellence attracts Excellence." Most sincerely, Jim Morrissey
and Stanway House...
Alysha & Miles Jordan
"Dear David,
We can't begin to thank you enough for the outstanding service we received from you as a driver, planner and guide.
The travel was excellent with every thought put into our comfort. The extra special reading materials you took the time to provide us each of our three days were both insightful and made for excellent reading each night when we returned from our beautiful excursions. Your choice of unique and special places to dine as well as the excellent seating and locations were just lovely. They were each just perfect! It's hard to believe we were able to see so much of lovely England and also have the perfect amount of time to truly soak in each site as we did. Your thoughtful considerations of our desire to photograph each site was quite evident in the extensive planning and research you did each for each and every space we enjoyed. To meld historic sites, religious spaces, family college at Oxford and Harry Potter into one trip seamlessly is no small feat and just speaks to the outstanding service you provide. It is clear this is due to all of the planning you thoughtfully put into each of our journeys. It was 3 days we will speak of for many days to come. We look forward to working with you again when we return back to your beautiful country and sincerely thank you for your efforts.
Best Regards and with our thanks," Alysha & Miles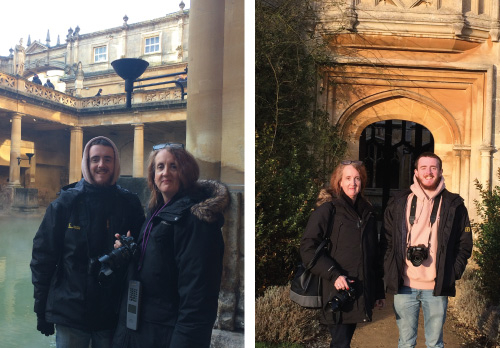 Nancy & Kevin
"David was exceptional and made the trip special. He runs a first class operation and we would highly recommend him!" Nancy & Kevin